Kafasoto Begins Studying Galatians for You on January 30th
Kafasoto Begins Studying Galatians for You on January 30th
Kafasoto is excited to announce that they will be studying Tim Keller's Galat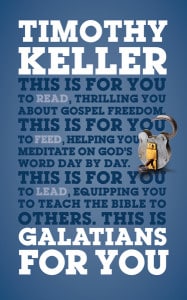 ians for You in 2015. Their first get together will be Friday evening, January, 30th at 7pm at the home of Tracy Greenberg.
Kafasoto is our gathering of ladies at Evident Grace, and they meet once a month for a time of study and community. Meeting at a home gives our ladies the opportunity for a relaxed and fun environment to study in a pressure free environment, and it also provides a great place get to know each other.
Why Keller's book on Galatians? Well, Galatians does a great job of stripping away all the add-ons that sometimes come with faith in Jesus, and Keller does an incredible job of explaining the book verse by verse. Galatians for You can be used as a daily devotional, complete with reflection questions, or it can be read for personal study and enjoyment. Galatians for You also has an accompanying small-group study guide.
Kafasoto will meet at the home of Tracy Greenberg on the 30th. You can contact her at [email protected]. Her address is
9711 Becker Court
Fredericksburg, VA 22408
Show up, bring a friend, order the book here, and have fun, ladies.