The Essential Nature of General Assembly for the Church
The Essential Nature of General Assembly for the Church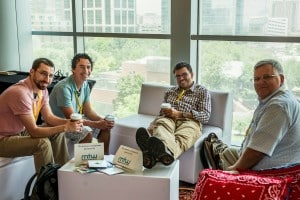 Why should Ruling and Teaching Elders leaving their churches for a week, travel hours away, and vote on motions and even obscure points of theology each year? When I (Gordon) became a Ruling Elder some 15 years ago, I thought that General Assembly was at best a boondoggle and at worst a boring use of time. However, my attitude soon changed.
While General Assembly does offer great opportunities for fun, and there are some tedious moments of Robert's Rules of Order, General Assembly has become an essential for me and I hope it will also be one the guidance of our church.
Each year, the PCA's General Assembly takes up the issues that have arisen from individual churches, up to their sessions, to their presbyteries, and finally to the national level. The motions that are approved eventually go back to the presbyteries, and ultimately they return to the General Assembly. This back and forth provides that no one GA can makes things binding on the churches. They must follow a path of conviction that proves the issue relevant and worth the concerns of the church. Individuals and churches have a voice and hope for care and concern through this process.
In fact, last year, GA passed a bill that not only encouraged our churches to take steps to insure the safety of children in our care, the bill rebuke any churches that did not take these steps and offered a confession of sin that it has taken us this long to address the issue. This bill partnered well with Evident Grace's desires and efforts to train our own people in caring for the children that God has entrusted to us.
Additionally, GA provides innumerable opportunities for training and partnership. Each year, pastors (especially the eager ones like EG has) search out new material for personal study, for the present needs of their churches, and future areas of training. At the same time, we get to meet and discuss the resources with the very authors and companies that write them.
Last year, we walked away ready to implement the Gospel Identity study because we had time at length with the people who shaped the curriculum. This year, we go hoping to have the same time with skilled authors and companies who have worked and trained churches in mercy ministry. Additionally, we hope to discuss internship and future partnerships with seminaries and seminary students.
So, please be in prayer as Jeremy and I will leave Sunday, June 7th and will be returning either Friday the 12 or Saturday the 13th. Our return is dependent on how swift the business is conducted on the GA floor. Pray for our families and seek them out while we are gone. Pray for how Evident Grace can grow to be more like Christ through this time, and then pray for your own heart that God will ultimately impact you in some way through all of these activities.