Join Evident Grace for a Week of Easter Celebrations
Join Evident Grace for a Week of Easter Celebrations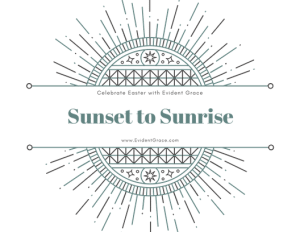 Evident Grace Fellowship is excited to announce our Easter "Sunset to Sunrise" celebrations for 2018.  Our desire is to strip away the unnecessary elements and gimmicks of Easter celebrations and return to the roots of worship, community, and service.
Towards that end, we are inviting you to worship, fellowship, and serve with us in any and all of these events.
Sunday, March 25th – The Sunday before Easter has traditionally been called "Palm Sunday".  In this service, we will worship around the passage in John where Jesus enters Jerusalem the week before His resurrection.  At that moment, the crowd waved palm leaves and declared Him as king.  While we won't be waving palm leaves, we will be worshiping and calling everyone to worship Jesus as King.  This service will be at 10:00 am at the Ron Rosner YMCA located at 5700 Smith Station Rd.  We will have childcare at this service.
Thursday, March 29th – The Thursday before Easter, we will have a Maundy Thursday service.  The word "Maundy" means commandment, and the service is called that in light of Jesus' statement in John 15:12-15,
12 "This is my commandment, that you love one another as I have loved you. 13 Greater love has no one than this, that someone lay down his life for his friends. 14 You are my friends if you do what I command you. 15 No longer do I call you servants, for the servant does not know what his master is doing; but I have called you friends, for all that I have heard from my Father I have made known to you. 
Jesus said these things at the giving of the Lord's Supper, on the night that He was betrayed. Evident Grace will have a fellowship dinner at the Fox Point Clubhouse at 6:30 pm.  During that time, we will also have some music, times of sharing, and the Lord's Supper.  The Fox Point Clubhouse is located at 6120 Blackstone Blvd.  We will not have childcare for this service.
Friday, March 30th – The Friday before Easter is our Good Friday Service.  Church history has also called these services, "Tenebrae" or a service of darkness.  This is a service where we will meditate on the death of Jesus and our sin as the cause of His death.  This service ends in silence and meditation and you leave as you feel ready.  It will begin at 7:00 pm and will also be at the Fox Point Clubhouse located at 6120 Blackstone Blvd.  There will not be childcare for this service.
Saturday, March 31st – We won't have a service on this day, but we will be serving.  Lots of folks from Evident Grace will be volunteering and participating in the 2018 5k Rabbit Run, 1 Mile Hop, Bunny Chase, and Easter Egg Hunt.  This event supports Young Lives which is a ministry to single and teen mothers.  You can sign up at their website. The race begins at 8:00 am. If you are a member of Evident Grace and would like to volunteer contact Nathan Thomas.  He needs 10-12 people.
Sunday, April 1st – And finally Sunday is Easter Sunday.  First, we will host a breakfast at 9:00 am at the Ron Rosner YMCA.  You are all invited and we hope you can make it.  Just show up, eat, and meet some great folks.  Then, at 10:00 am, we will have an Easter celebration where we will celebrate the resurrection of Jesus.  After the service, we will have food and coffee for all of our guests.  We will have childcare for our 10:00 am service. If you are a member of Evident Grace you can signup to bring food for the breakfast here.
Friends, our goal at Evident Grace is simple.  We want to make God's grace evident through worship community, and service.  Our prayer is that these events will enable you to do that.  Please join us.
If you have any questions, you can either go to www.evidentgrace.com or email the church at [email protected].