Sunday Recap for 11.25.18 Introduction to the Book of Romans
Sunday Recap for 11.25.18 Introduction to the Book of Romans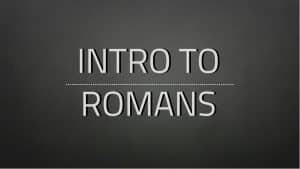 Introduction to the Book of Romans
James Montgomery Boice: "We cling to man-centered, need-oriented teaching. And our churches show it! They are successful in worldly terms – big buildings, big budgets, big everything – but they suffer a poverty of the soul. All this means, in my judgment at least, that it is time to get back to the basic, life-transforming doctrines of Christianity – which is to say that is time to rediscover Romans." 10th Pres Massive Church
Swiss theologian Frederick Godet: "Every great spiritual revival in the church will be connected as effect and cause with a deeper understanding of this book."
Martin Luther: "I had no love for that holy and just God who punished sinners. I was filled with secret anger against him. I hated him because he was not content with frightening (by the law and the miseries of life) us wretched sinners. Already ruined by original sin, he still further increased our tortures by the Gospel.
But when, by the Spirit of God, I understood the words – when I learned how the justification of the sinner proceeds from the free mercy of our Lord through faith, then I felt born again like a new man. In very truth, this language of Paul (in Romans) was to me the true gate of paradise."
Provenance:
Was the church of a church plant or an established church? Well, they were a lot like us, maybe a bit older but not too young.
When Paul wrote this epistle to the church in Rome, that congregation must have already been in existence for a number of years, for Paul writes that he had desired to visit them "these many years" (15:23).
To him this church was strong enough to help him carry out further missionary activities. They are not called recent converts; they are not treated as having been improperly instructed, but seem to have been an organized and well-grounded congregation (15:14, "filled with all knowledge, able also to admonish one another").
The epistle deals with no major error in the church; nor does it have to deal with organizational principles. It was a church that was universally famous (1:8), and not merely because it was in Rome.
The Roman church was a group that had a large Jewish element, but was also filled with Gentile converts from paganism, both free as well as slaves. How the church in Rome was started is unclear. The Roman Catholic view is that Peter founded it; another view is that Roman Christians from Pentecost in Jerusalem made their way there. But it may simply be that several Christian families or groups from Pauline churches in the East settled in Rome and grew together.
According to the end of the book, there were several congregations meeting in the city. At the outbreak of Neronian persecutions, Tacitus says that the Christians in Rome were "an immense multitude."
Based on the material from Acts and the Corinthian epistles, the Book of Romans clearly indicates that it was written from Corinth on Paul's third missionary journey.
Paul had never visited Rome; but after fulfilling his mission of mercy to Jerusalem, he hoped to go to Rome en route to Spain (Rom. 15:23-25).
At any rate, the date of the book is probably 60 A.D.
One generation after the resurrection of Jesus and Pentecost.
4 years prior to Nero's persecution of the church.
10 years before Jerusalem was destroyed in 70 AD.
Outline
I. The Revelation of Righteousness (1:1-17)
II. Justification with God (1:18—5:11)
III. Union with Christ (5:12—8:39)
IV. The Sovereign of God & His Relationship with Israel
V. Application of God's Work (12:1—15:13)
VI. Conclusion, (15:14—16:27)
Significant Verses and Themes in the First Half of the Book
Romans 1:16 For I am not ashamed of the gospel, for it is the power of God for salvation to everyone who believes, to the Jew first and also to the Greek. 17 For in it the righteousness of God is revealed from faith for faith, as it is written, "The righteous shall live by faith."
Romans 3:27 Then what becomes of our boasting? It is excluded. By what kind of law? By a law of works? No, but by the law of faith. 28 For we hold that one is justified by faith apart from works of the law.
Romans 5:1 Therefore, since we have been justified by faith, we have peace with God through our Lord Jesus Christ. 2 Through him we have also obtained access by faith into this grace in which we stand, and we rejoice in hope of the glory of God.
Romans 8:1 There is therefore now no condemnation for those who are in Christ Jesus. 2 For the law of the Spirit of life has set you free in Christ Jesus from the law of sin and death. 3 For God has done what the law, weakened by the flesh, could not do. By sending his own Son in the likeness of sinful flesh and for sin, he condemned sin in the flesh, 4 in order that the righteous requirement of the law might be fulfilled in us, who walk not according to the flesh but according to the Spirit. 5
Romans 8:26 Likewise the Spirit helps us in our weakness. For we do not know what to pray for as we ought, but the Spirit himself intercedes for us with groanings too deep for words. 27 And he who searches hearts knows what is the mind of the Spirit, because the Spirit intercedes for the saints according to the will of God.