Pastors gather in Virginia to encourage local support and unity
Pastors gather in Virginia to encourage local support and unity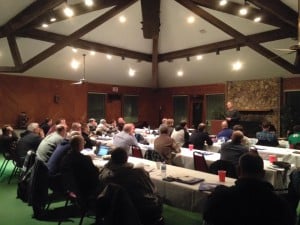 In an age of church dissension, arguments, and division, church unity appears to be a distant dream.
However, in a moment of hope, dozens of church leaders (members of the Tidewater, Blue Ridge, and James River Presbyteries) spent the earlier portion of this week at the Airfield 4-H Camp in Wakefield, VA. Focusing on updates from church planters and missionaries, the yearly retreat brought in local speakers with stories and exhortations surrounding the theme of "Resilience".
As Leonard Bailey, the pastor of Hope of Christ PCA in Stafford County, reminded the group, "The foundation of this retreat began 15 years ago when Terry Traylor (a hero to many and a legend to others in the field of church planting) brought a few of his friends to Lake Lure, NC to pray for encouragement, unity, and inspiration. The pastors in Virginia enjoyed it so much, they started this retreat, and here we are."
When asked why the yearly getaway continues to grow, Jeremy Greenberg, assistant to the pastor at Evident Grace Fellowship in Spotsylvania) answered, "There are so few places where you find this level of trust and honesty among pastors. No one is here trying to impress the others. Everyone just wants to encourage and support."
Excitement is already building for next year as Paul Miller, bestselling author of "A Praying Life", is booked to speak. Retreat coordinator George Boomer of Hope Presbyterian in Smithfield, VA explained, "We want to alternate between hearing from local pastors and national speakers each year. We need voices from both within and outside our contexts to help us."
As the pastors and missionaries broke camp on Wednesday, each spoke of their hope in returning home while expressing the eagerness of returning next year. One said, "These are a few of the most encouraging and inspiring days of the entire year for me. I've already got next year marked on my calendar."
While the fruit of church unity is determined by much more than a 3 day retreat, dozens of pastors expressed a renewed desire to speak of Jesus and the hope of the Gospel in both their areas of ministry and abroad, so for many, the mission is never accomplished, but there was some progress made this week.