Evident Grace Partners for South Carolina Flood Relief
Evident Grace Partners for South Carolina Flood Relief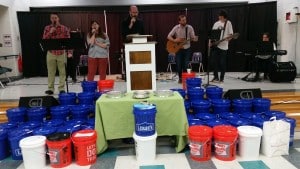 Mere weeks ago, South Carolina suffered from what many called a "thousand year" event.  Heavy rains flooded the rivers and banks, and devastation overran much of the area leaving many with damaged homes and even more homeless.  Business and government buildings were not spared either.  Sadly, in our minute by minute culture the events a month ago have been long forgotten while the need ever increases.  Just this past week, rains once again flooded much of the SC.
Evident Grace, like many of you, sat wondering what could be done.  Thankfully, our denomination, Presbyterian Church in America (PCA), mobilized our Mission to North America Disaster Response teams, not only to send relief worker on-site but to create a flood bucket effort as well.  The flood buckets are 5 gallon buckets filled with specific cleaning supplies to enable and hasten the cleaning process.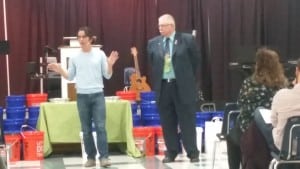 When Evident Grace heard this, we sent a call out to our folks and local churches to partner in prepping and send 50 buckets to SC.  This Sunday, we sent the first 48, and next week, we should send another 10 more.  Our friends at Hope Presbyterian (EPC) contributed as well.
Yesterday, in the middle of our service, we lined up our buckets at the front of our worship space, and the two churches prayed for the people on the ground serving and for the people in need of care.  We also prayed that God would fan the flames of such service in our church, in our area, and in our denomination.  We thanked for God for church partnerships, specifically thanking God that our partnership is even cross-denomination.  We are slowly and prayerfully looking towards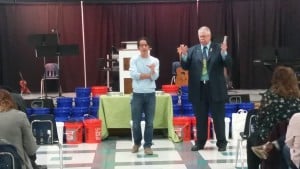 sending some people to SC in the New Year as the work will continue for months to come.
If you would like to find out more ways to help SC, visit our denomination's website, and if you would like to partner with us in more efforts both locally nationally, contact us here.
We are humbled and thankful to have played a small part in demonstrating the mercy of Jesus, and we pray that God gives us more opportunities in the future.
Evident Grace meets each Sunday at Courthouse Elementary at 10:30am.  You can find out more about us at www.evidentgrace.com.