Evident Grace Begins a New Series on the Gospel of John Entitled Definition on February 1st
Evident Grace Begins a New Series on the Gospel of John Entitled Definition on February 1st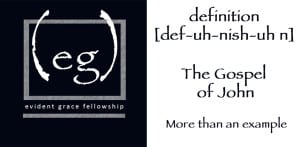 Sunday, February 1st, Evident Grace is launching a new sermon series entitled, Definition, a study of the Gospel of John.
Why call the study Definition? Well, so many look at Jesus as an example of how to live, and while Jesus is that, He is so much more. You see, the book of John was the last written Gospel, and one of its intentions was to better define who Jesus is. After a generation of believers, people still had a questions about His person, His character, and His purpose. The Gospel of John wanted to clarify those things.
In light of that, Definition is the perfect book for not only Evident Grace to study, but also for our community to experience. After nearly two years, EG needs to better understand Jesus. We need Him to more greatly define our lives and our church. And the Spotsylvania/Fredericksburg area needs Him better defined as the realities of our communities are moving so many towards wrestling with who He is and How He might impact our lives.
So, as always, we invite you, and we encourage you to bring friends to this series, specifically to its launch on February 1st. Each Sunday at 10:00am, Evident Grace offers a casual environment designed to take Jesus seriously. To enable that, we meet at a central location for our area at Ron Rosner YMCA. We offer a welcoming community for singles, marrieds, parents with kids, and retirees. Our music represents this generation while honoring the generations past. We have designed a wonderfully fun and safe nursery that also includes a separate teaching time for children aged 2-5. Our Sunday School for grades 1-5, meets from 9:00am to 9:45am.
If we can greater clarify who we are or why we are pursuing greater Definition, contact us here or call us directly at 919-412-8161. If you would like to find out more about Jesus or if you would like to get a sense of what our services are like, call us or check out the worship section of our website. 
Thanks for considering us, and we can't wait to welcome you.