Evident Grace Reverse Advent Effort
Evident Grace Reverse Advent Effort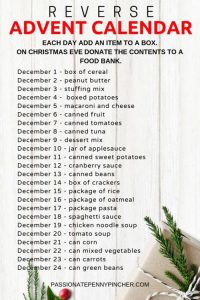 EG Family and the Surrounding Community,
This past Sunday, our deacons announced our December "Reverse Advent" effort.
As you will see in the attached image, we are collecting canned and dried goods to replenish the Fredericksburg Area Food Bank. Often, local food banks are drained post-Christmas because of the demand and the decreased giving post-holiday season. We want to help eliminate their upcoming need.
Our desire is to bring all the food collected to our December 23rd worship service, place food up front, and pray for the families who will receive it. The YMCA will then connect with the Food Bank for a pickup following our service.
If you can't make the 23rd service, we will let you now where the YMCA would like for us to store it until then. We will let you know that information as soon as we know it.
What we would like prior to the 23rd is to know how many families are participating. If you plan on participating, could you simply email Amy Duncan at [email protected] to let her know? Don't worry; if you forget to email her, we can still accept the donations on the 23rd, but we would like to know how many families are participating.
Thanks so much in advance for caring for and serving these families.
Pastor Gordon