2017 Easter Week Events at Evident Grace Fellowship
2017 Easter Week Events at Evident Grace Fellowship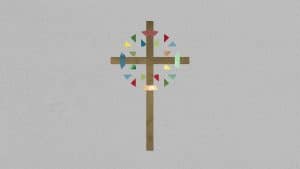 It is Easter, and we are ready to celebrate at Evident Grace Fellowship.
Friends, we are so excited about our Easter Week activities.  These are going to be transformative events for you and your family.  Please invite folks to be a part of this with us.  Here are the details:
Thursday (4/13) – Maundy Thursday Service and Dinner (6:30 pm) at the  
Fox Point Clubhouse
6120 Blackstone Blvd
Fredericksburg, VA 22407
A Maundy Thursday gathering is a celebrative meal reminiscent of the final meal Jesus spent with His disciples on the night before His death followed by a brief worship service and the Lord's Supper.
This year, we decided to forgo a meal signup (and there was much rejoicing).  Instead, we are having the event catered by Famous Dave's BBQ.  We ask that families (who can) donate $10 per person on Thursday night.  If you can't donate, no worries.  If you can give more, great.  The important thing is that we are together as a family.  We do ask that you would bring along something to drink as drinks are not provided by Famous Dave's.  We will have bottled water on hand.
Friday (4/14) – Good Friday Service (7pm) at the
Fox Point Clubhouse
6120 Blackstone Blvd
Fredericksburg, VA 22407
Traditionally, the church has observed Good Friday with a service of darkness that is intended to give the believer an opportunity to reflect on the death of Jesus in payment for sin.  It is a quiet service of hymns and readings, and worshipers leave in silence with no benediction in hope of resurrection Sunday. This deep, meaningful service intends to better enable you to worship on Sunday, Resurrection Day.
Saturday (4/15) – Young Lives Bunny Hop 5k (8:30am)
This is a great event where we can run, have fun, and support Young Lives, which is a wonderful pregnant and parenting teens ministry.  The race starts at 8:30am and you can signup and find directions here.
Sunday (4/16) – Easter Service at the Ron Rosner Family YMCA (10am)
Of course, Sunday is Easter, Resurrection Day.  Our service will begin at 10am as usual.  Please invite friends, arrive early, and let's celebrate our risen Savior.
We cannot wait to see all of you this weekend.